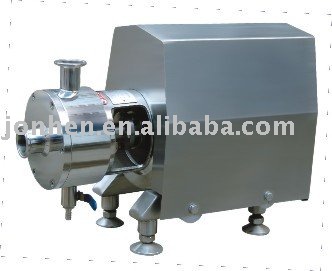 Place of Origin:

Zhejiang China (Mainland)

Brand Name:

JONHEN

Model Number:

JRL

Application:

cutting homogenizing emulsificatio...

Type:

Emulsifying Machine

Type:

Emulsifying machine

Application:

Emulsifier
Homogenization
Medicine cream , ointment , vanishing cream , facial mask , cream , texture starch , milk product, fruit juice
Under the function of centrifugal power caused by the high speed turning rotors, the material in the picture would be sucked into the working chamber from the upper and lower feed zone at the same time axially .
The high centrifugal power would axially throw the material into the small space between stators and rotors. And the material would be separated and emulsified under centrifugal and shock.
The turning out end of the rotor would produce a linear speed at least 15m/s and highest 40m/s, and caused powerful mechanical and hydraulic cutting, fluid fraction, striking avusion, which make the material separate, emulsified, even, and jet out through the stator groove.
The material jets out axially in high speed continuously, and changes flow direction under the resistance of itself and the container wall. At the same time, under the function of upper and lower axial sucking power in the rotor zone, there will be two strong onflow: upper one and lower one. After repetition, the material would finish the process of separating, emulsification and homogenization

Blending
Syrup, shampoo, bathing fluid, rinse fluid, fruit condensed fluid, yoghurt, sweets, mixed milk products, inks, enamel
Separate blending
Methyl fiber dissolve, viscose dissolve, carbide dissolve, oil water emulsification, pre-blending, flavoring production, stabilizer dissolve, dust, salt, aluminum oxide, farm pesticide
Separate
Suspension liquid , pill capsule, medicine conciliate and gather , the coating is scattered, lipstick , vegetables thick soup , mustard mixture , catalyst , color reducing agent, metal , pigment , modified pitch , nanometer material conciliate and gather
Emulsification
Medicine cream, ointment, vanishing cream, facial mask, cream, emulsification essence, profit emulsification, emulsification pitch, resin emulsification, wax emulsification, water polyester fat emulsification , farm pesticide
Homogenization
Medicine cream , ointment , vanishing cream , facial mask , cream , texture starch , milk product, fruit juice , printing ink , jam

Notes:
1.If the viscosity or thickness is high, it is suggested to operate together with pipeline high cutting homogenizing emulsification machine.
2.If there is high temperature, high pressure combustible, explosive, corruptive circumstances, exact parameters should be provided so that correct models should be selected.
3. If any data is changed in the table, no notification would be made. The correct parameters please refer to the actual goods provided.