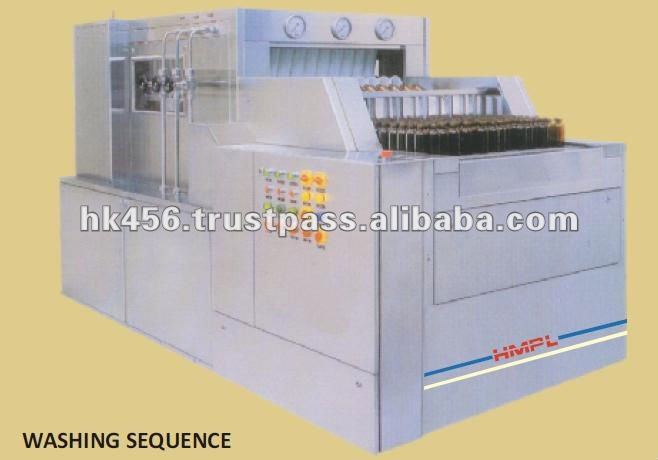 Place of Origin:

Gujarat India

Brand Name:

HMPL

Model Number:

LBW -150

Type:

Washer

Packaging Material:

Glass

Automatic Grade:

Semi-Automatic

Application:

Pharmaceuticals, Food / Dairy and...

Condition:

New

Packaging Type:

Plastic / PET Bottles

Driven Type:

Electric

Structure:

SS 304

Power Consumption:

5.0 KW

Type:

Linear Washing

Processing:

Washing & Cleaning

Cleaning Process:

Water

Feature:

Outside and inside washing

Certification:

ISO 9001

Washing Fluid:

Liquid 1/2/3
The Bottle Washing Machine is used for cleaning the dust and dirty inside and outside of plastic and glass bottles.
HARIKRUSHNA MACHINETECH PVT. LTD.
Present
LINEAR BOTTLE WASHING MACHINE
SALIENT FEATURES
High speed Tunnel type Machine.
Useful for 10 ml to 200 ml bottles.
Suitable for glass / pet bottles.
Output Speed of 120 to 250 bottles per minutes.
Can be equipped with feeding table , Inspection Table , Exhaust Blower and bottle collection system.
Specially designed nylon bottle holders.
Consist of "Manual Mode" for checking individual function as well as "Auto Mode" for continuous operation.
The total washing system is controlled and monitored by PLC.

OPERATION

The bottles from the in-feed system are inverted via a drum mechanism to pass through eight separate washing stations. The stop and move i.e. Geneva Mechanism hold the bottles on top of each washing station for a redetermined time period. The eight washing stations are independently connected to their respective circuits to eliminate any cross contamination of wash media. The machine speed can be adjusted to suit production speeds. The final washing station can also be adjusted to individual requirements like hot air or steam etc. During the stationery position bottles are externally washed as well. The wash water can be either directly drained out or recycled depending upon the wash sequence preferred.
WASHING SEQUENCE

INSIDE WASH
W1 W2 W3 W4 W5 W6 W7 W8
AIR L1 AIR L2 L2 AIR L3 AIR
OUTSIDE WASH
E1 E2
AIR L1
APPLICATION - Pharmaceuticals, Food / Dairy and Distilleries.
We can offer a wide range of quality liquid packaging machinery & materials at most competitive price from our group company. We also offer complete plant on turnkey basis and wide range of processing machineries for production of various products.